August! Here is a month which smells good! It smells, like summer, like sun, like heat… Well, it smells like vacation. Ok you will tell me this is true for Northern hemisphere temperate countries in Europe or America. But what does August means in Phuket?
What is the weather like? What kind of activities are on? Are there any events going on? In other words, you are thinking about visiting but you want some hints, as on all the forums you can read everything and its opposite.
So yes, you are on the right blog, and we will tell you everything about Phuket in August.
Ok so here we are. You don't know what to do next month. It's summer and you don't have any plan. You just know you want to go away. Despite all you can read on the Internet, it is very smart from you to think about Phuket.
Let's make it straight, Yes, summertime in the West is low season in the East. Good news? Bad news? At first hearing about low season is not very catchy. But, because there is a but, it is also a fantastic time here in Phuket. Wet season in Phuket is a great time to visit!
Weather
First thing you checked on google was 'Phuket in August'. Magic of internet, 90% of the suggestions are about the weather. There are many reasons why people choose to take vacation in Thailand. Food, nightlife, culture, beaches… but the weather is also an important factor.
Average temperature 28°C, low temperature 25°C, high temperature, 31°C. Sea temperature 29°C (It's a bathtub temperature!) So far it sounds pretty good. Rainfall, 260mm, chances of rain 51%, chances of sunny days 1%, chances of cloudy days 67%, chances of windy day 31%, 19 days of rain… Now it sounds little bit less appealing. But remember this is just theory, and keep in mind that internet gives you the averages. Clearly yes, there is a weather lowdown in August in Phuket as it lies between the South West monsoon season. Prevailing winds bring more rains, but these showers are often short and intense. They tend to last half an hour and then the sun comes out again. 8 hours of sunshine gives you plenty of time to relax and enjoy the beach. Moreover, rain is very often local, and It seems to rain more often in Phuket town and Patong Beach than in the South.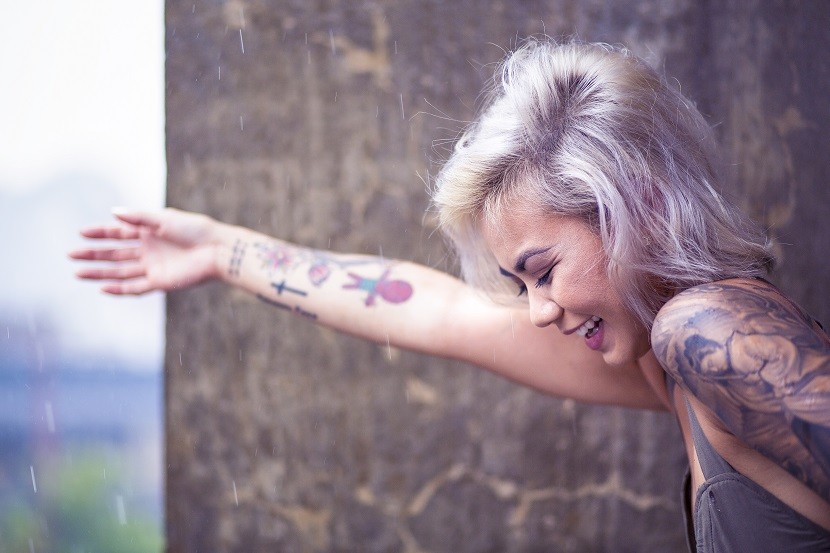 Prices
The good news is that prices are much lower during the low season. Air fares reach rock bottom and you benefit from cheaper hotel rates. Choosing to visit Phuket in August can make you save up to 50% on your vacation.
Prices drop dramatically in resorts, hotels, guesthouses… It is much easier bargain prices as there is a limited number of guests compared to the high or peak.
Add to this that there will always be a room available so you will not have to book accommodation in advance and will still be able to go wherever you want whenever you want.
Crowds
Here is another advantage of visiting Phuket in August, less crowds. And smaller number of tourists makes August a very pleasant time to visit.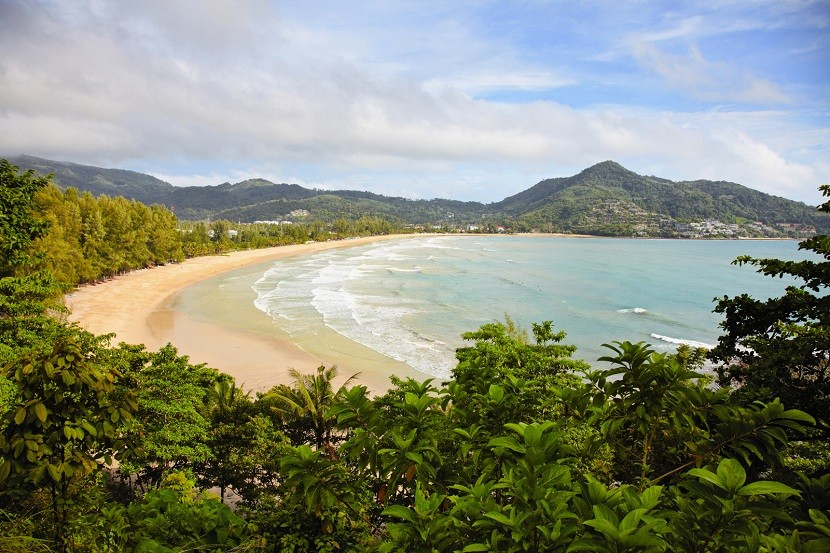 Kamala beach. Photo credit: shutterstock.com
You can enjoy more room on the beach, less crowds at the main sights, more space in the restaurants, easier to get around… When taking a tour, your group will mostly consist in your family or friends and yourself making it like a private tour. Uncrowded towns, markets, sights, beaches and places on the island will make you feel that there is more to see, and each and every of these 'empty' places will bring you a different sensation than if it was during the peak season.
Everything is more laid back during the off season, the atmosphere is more relaxed, the locals are more relaxed, you are more relaxed.
Some shops, beach restaurants or food stalls can close earlier than usually during the high season, but you can still do all activities and everything is open and available.
Activities
Even during the monsoon season, it is not like you will see rain every day. You will enjoy some great days of very fine weather and moderate sea allowing you to hit the beach for some sunbathing and water activities.
By the beach, many of the usual water-skiing, jet-skis or banana boats will still be running and you can book some diving, fishing and canoeing activities. Diving daytrips to Koh Racha and Koh Phi Phi are still on as well as some dive cruises to the Similan Islands if the weather is favorable. Even if the weather is not fantastic on the island, the weather at sea can be much better and let you get some tan while cruising on a yacht to the neighboring islands. Game fishing is another activity you would not want to miss, especially during the rainy season. Indeed, at this time of the year, sailfish are queueing to take the hook. Because of the wind and the waves, low season is the time when surfing makes real sense on Phuket.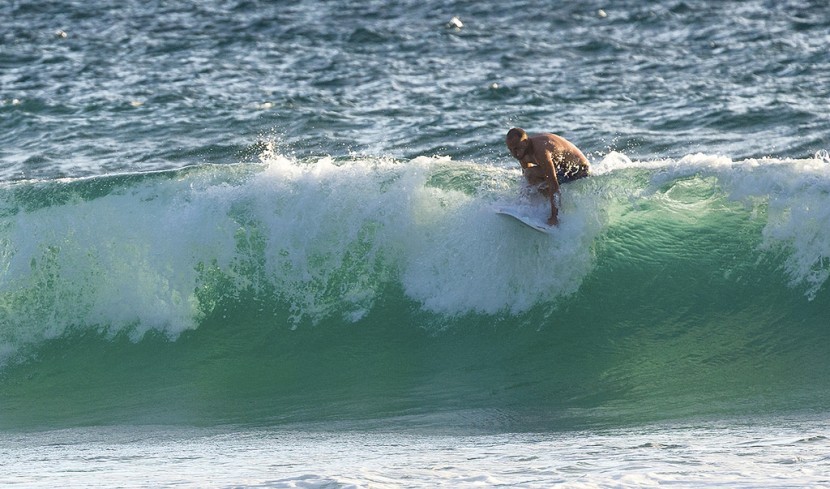 Surfer in Phuket. Photo credit: flickr.com
The wind also implies that the sea can be rough for swimming. There is a high probability that some beaches will be red flagged because of larger swells and higher waves. Be careful when going to swim, pay attention to the flags and stay in the areas watched by lifeguards.
If you prefer to stay on land, there's plenty to do. You can pay a visit to the interior of the island and discover the small land area which is still covered with natural forest, and thus get a glimpse of what Phuket was in the past before the tourism boom. The best place to do so is the Khao Phra Thaeo National Park where you will admire some scenic waterfalls, granite cliffs as well as an untouched exotic flora and fauna of gibbons and birds in their natural environment. Once you are done with inland Phuket, explore more jungles around by reaching mainland for a trekking excursion. Rainy season is ideal for this as the vegetation is lusher and greener, the rivers are higher offering some epic canoe or rafting rides and making the waterfalls even more spectacular.
Some other sports and leisure activities are available all year round. Horseback riding, tennis, golf, or for the one in search of sensations karting, shooting range and bungee jumping are as much other activities you can choose from.
Events
We can agree on that, August is not the month of the year hosting the most events. But, as there is always something going on in Phuket, there will also be some events August.
Starting on July 29 and ending on August 7 is the Phuket SMEs and Real Estate Show 2016 featuring exhibitions about Health, Lifestyle, Education, Travel, Sport..., and a Real Estate Show.
On the 12th of August is 'Her Majesty the Queen's Birthday'. It is a public holiday in Thailand, also celebrating mother's day. commemorating the birthday of Her Majesty Queen Sirikit, the Mother of all Thai people. For this occasion, Thai houses will be decorated with lights and portraits of Queen Sirikit.
August 18 is the full moon. Even if you are not on Koh Phangan, you can paty like crazy at the Paradise Beach Full Moon Party.
All along August is also 'Por Tor' or the 'Hungry Ghost Festival'. Important event for ethnic Chinese, they celebrate their ancestors offering them flower, candles or food to feed the ghost that are said to have been released. The most popular offerings are turtle cakes, symbolizing longevity.
Fruits
Part of the pleasure you can meet in tropical countries are the delicious local fruits you can find. Probably you will find some fruits you never saw or tried before, We all know bananas, pineapples or coconuts, mangoes, papayas or dragon fruits. Thailand has a lot more for you to taste. However, the fruits available vary by season. And August is bringing with him a lot of sweet delicacies.
Photo credit: shutterstock.com
Mangosteen's (Mangkoot in Thai) peak season is stretching from May to September, making August a perfect time to enjoy them. This delicious sweet white fruit is also known as the Queen of Thai fruit.
Mangosteen. Photo credit: flickr.com
If Mangosteen is the queen, Durian (Toorian in Thai) is the king of Thai fruit. As unattractive as it can seem with its up to 5kg of spiky casing and its strong musty aroma, the durian can discourage people from even trying it. This would be a mistake and you will not regret the attempt when you will reach its smoothy and creamy golden flesh.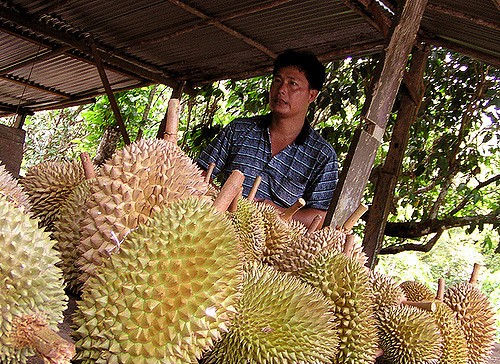 Seller of durians. Photo credit: flickr.com
Santol, also called Gratawn in Thai is a round fruit going from yellow to green. If the outter layer is firm and sour, the center is very soft and sweet.
Longon (Lam Yai in Thai), growing from June to August, is one of the more popular and classic Thai fruit. This 'lychee like' fruit grows in bunches and offers a creamy grey flesh.
Langsat, or Longkorng in Thai, grows from June to October. The outside looks like Longon, while the inside is made of segments of creamy grey flesh (yes, again), tasting very sweet with a tone of sour on the edge. Some segments contain seeds.
Rose Apple, (Champoo in Thai) is a very beautiful fruit shaped like a bell, and coming in different colors going from red to green. Crispy crunchy with a fresh taste, you can eat the whole fruit.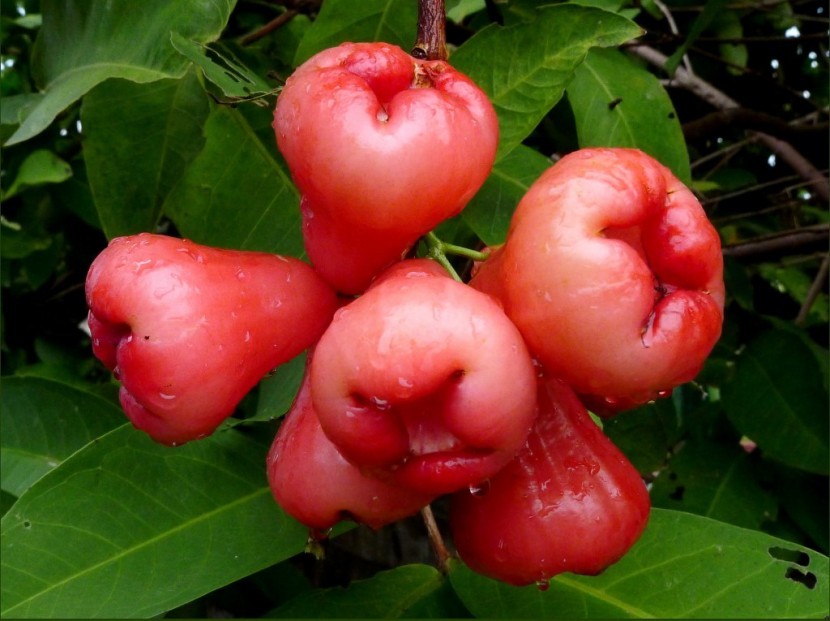 Rose Apple. Photo credit: flickr.com
Custard Apple (Noi Nah) is also called Sugar Apple. As big as a large apple, green on the outside, white and seedy on the inside, the flesh is very soft and sweet. You can choose to pick the seeds with a spoon or to suck the fruit off the seeds.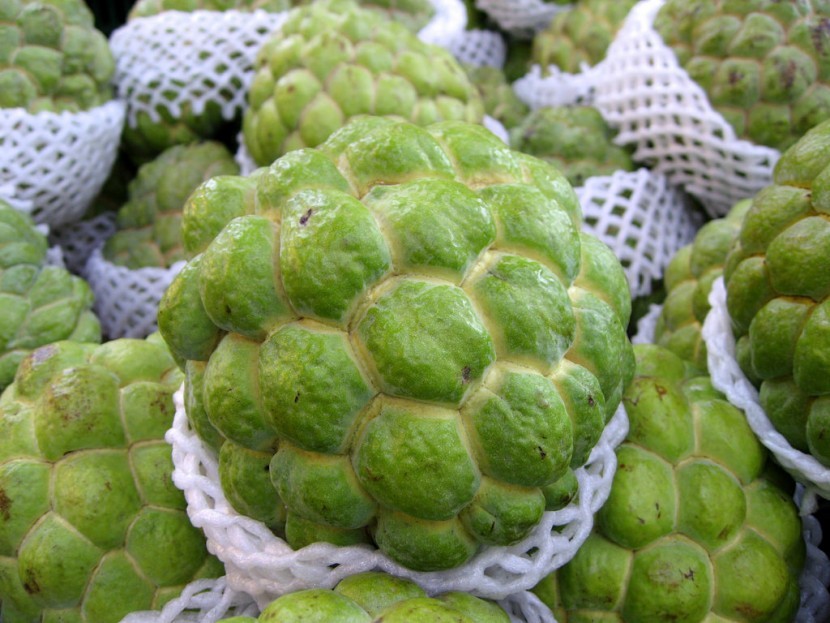 Sugar apple. Photo credit: flickr.com
Snake Fruit (Ragam in Thai) is a reddy brown firm and juicy fruit. Made of different sections wrapped around a stone, the snake fruit doesn't have a lot of flesh.
Sala (Sala in Thai), is very similar to the snake fruit is bth appearance and taste. Nevertheless, it is longer and thinner and thus has more flesh to offer, thus making it held in higher regard.
Mafai, or Burmese Grape, is not the most common fruit you can find on the markets but you have good chances to taste some from June to August. Once opened the leathery case of this oval fruit, you reach a pinky to purple flesh tasting sour and dry tanning your tongue.
Rambutan (Ngor in Thai) is a sweet and sticky white fruit with a single stone in the middle.
Talking about low season, many people are concerned about the rain. Going to a paradise destination to spend vacation inside is not something people usually fancy.
In my experience, August is not significantly different than the peak season. Low season is a great time to visit Phuket and August rocks. As long as you don't mind a few shower and don't want to spend your vacation only laying on the beach. Most days are hot and sunny and the rain is very welcomed and refreshing, and will not stop you from doing anything.
Add to this the sights, the beaches, the restaurants, bars and clubs empty from the crowds of the peak season, the prices for accommodations, activities and excursions hitting rock bottom plus your talents of bargaining, and you have the equation for a fantastic deal.
Invest in Phuket Property
with a guarantee of income from 7% per annum