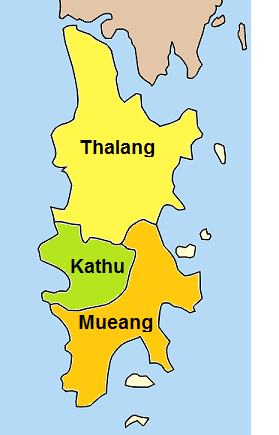 If you are planning to spend a winter or move to Phuket, in this article we will help you with choosing the right area of the island. Let's have a look at the island's regions from the following perspectives:
How well the infrastructure is developed: stores, schools and kindergartens, hospitals nearby.
Beach area and availability of parks and recreational spots.
Restaurants, cafes and other places to eat in the neighborhood
What kind of transportation is available in the area
In this article you will not only get the information that will allow to understand which area is more suitable for you, but will also be able to assess each of them on a 10-point scale.
Phuket is divided into three large areas - Thalang, Kathu and Mueang.
Let's start from the very beginning, from the northern part.
Thalang: the northern, less populated part of the island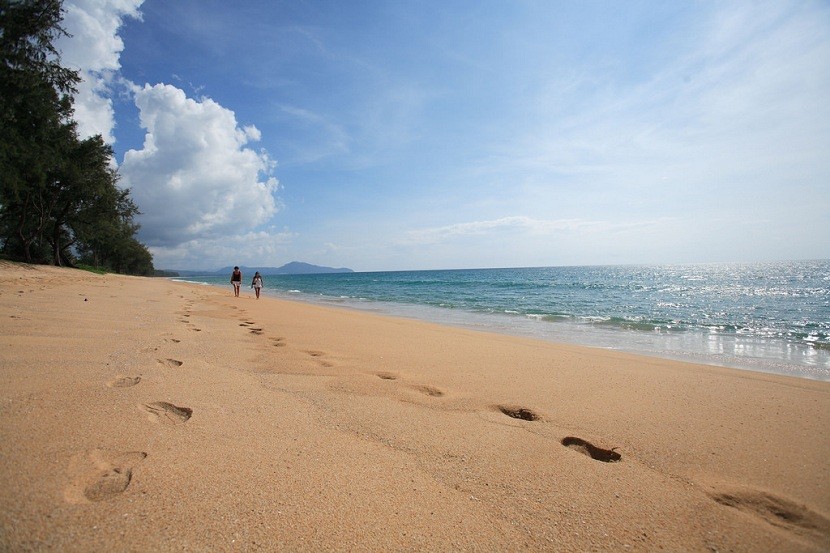 One of the nothern Phuket beaches - Mai Khao
Infrastructure: 3 points. Except for Western-style Lotus and Big C supermarkets you will not find large shops in this area. There are only small local markets and stores. Entertainment, enterprises, public hospitals, large educational institutions are all located not here.
Beaches and parks: 10 points. Stunning unspoiled beaches, beautiful nature, national parks, waterfalls, alluring jungle and clean air characterize the northern part of Phuket. Western area of Thalang is represented by beaches Mai Khao, Nai Yang, Nai Thon, Bang Tao. Eastern part is the bays of Maprao and Kung.
Places to eat: 7 points. Cozy beach restaurants and classical Thai taverns are located in this area.
Transportation: 2 points. It is difficult to go somewhere inside and outside Thalang area without private transport. Public transport passes by the main roads at intervals of 20-40 minutes and heads only to Phuket Town. Without a car or a bike (and if you are not happy to travel by bus), you can recourse to a taxi. Usually the role of a taxi is performed by small open cars, called took-took, but they can be quite expensive – starting from 500 Thai Bath ($14) to the next beach.
Kathu: the central part of the island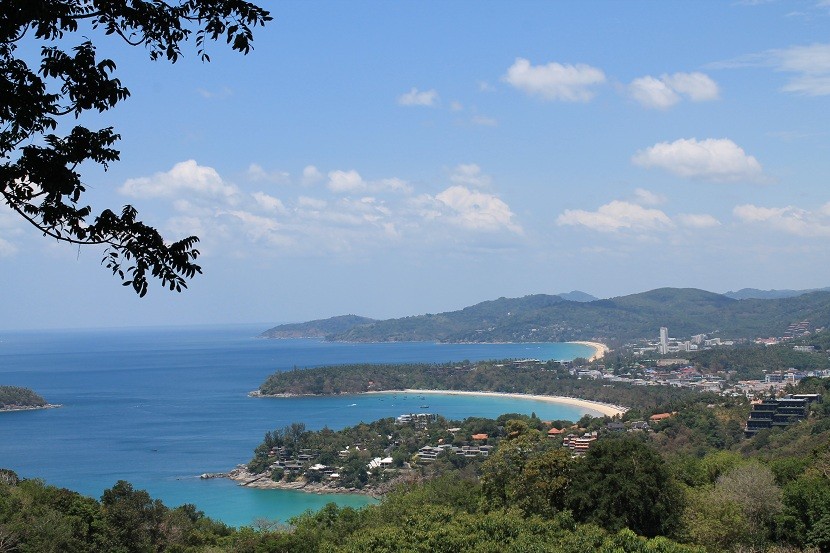 View over Kathu and Patong beach
Infrastructure: 7 points. Large shopping centers, most famous bars, restaurants, clubs, show venues are located in Kathu district. If you want to live close to the ever-pulsating nightlife epicenter, then you definitely need this area!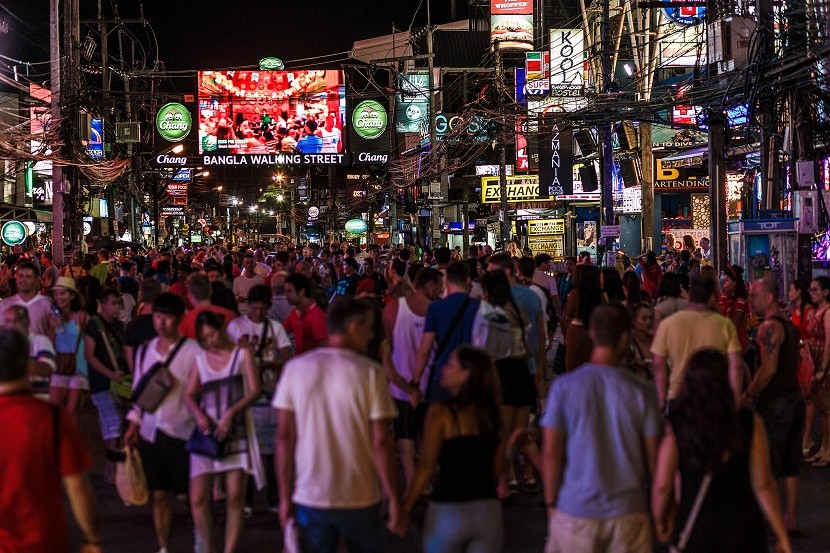 Center of Phuket's nightlife - Bangla Road
Beaches and parks: 6 points. Surin, Kamala, Nacalai, Kalim and the most famous beach of Kathu district (in fact, the most famous beach in all Phuket) - Patong Beach belong to this area.
Places to eat: 8 points. There is probably no other area on the island, such as Kathu, which could show off so many restaurants, cafes, bars, and other places with delicious food.
Transportation: 2 points. Public transportation is not everywhere, and again took-took is here to help you.
Mueang – the southern and the most densely populated part of the island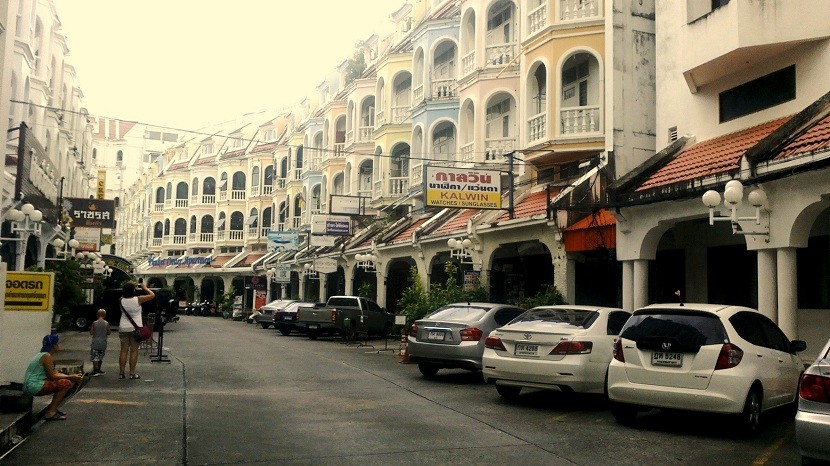 Architecture in Phuket Town is more European rather than Asian
Nothern part of this area is represented by the island's historical center and is called Phuket Town. Using a famous saying one can say "All roads lead to Phuket Town." It's a kind of the island's "City." Lots of expats choose Mueang as a place to settle down in Phuket. Let's see why.
Infrastructure: 10 points. There is a concentration of shopping centers, banks, offices, hospitals, museums, schools, cultural centers, churches and historical places of the island, as well as sea ports in Mueang.
Beaches and parks: 8 points. Mueang district is also famous for its beaches, bays and spectacular viewpoints. Mueang Beaches are Karon, Kata, Kata Noi, Nai Harn, Rawai, Chalong, Cape Panwa and Phuket Bay.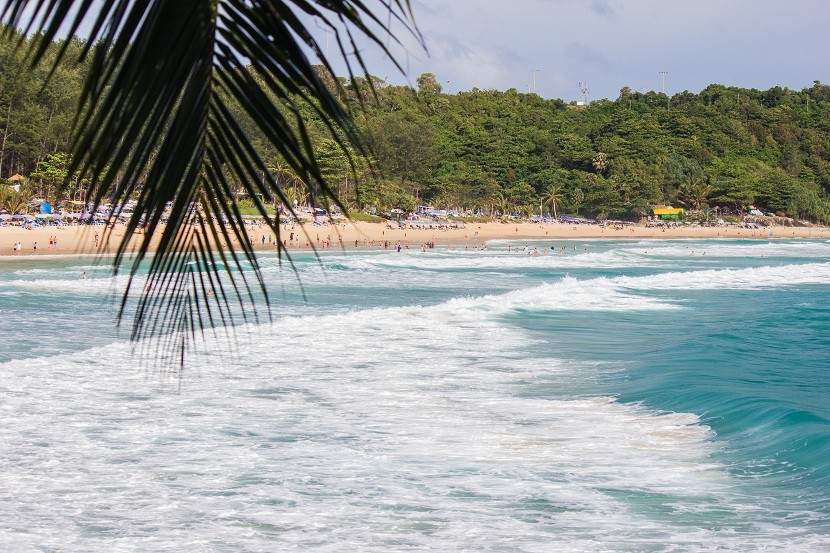 Nai Harn beach
Places to eat: 10 points. This area is famous for its fishing zones, and therefore restaurants with fresh seafood can be found everywhere. Phuket Town, especially in its historical part, introduces either local fast-food or gourmet restaurants with exquisite cuisine.
Transportation: 10 points. Transportation is convenient so you can reach the center of Mueang from any area of the island and vice versa.
Phuket is waiting for your coming!
Invest in Phuket Property
with a guarantee of income from 7% per annum